Frijoles Antioqueños - Colombian Bean Soup
An essential part of the Colombian Bandeja Paisa are the beans, and nothing like beans cooked in a clay pot. This recipe is perfect for the 4 quart Black Clay, La Chamba Rounded Soup Pot.

The recipe calls for Cargamanto beans. If you are lucky enough to live by a Colombian grocery store, or a Latin grocery that carries them, you are in for a treat of the best beans you have ever had. If you can't find them, try Bola Roja, or at last resort, Red Kidney Beans or another Small Red Beans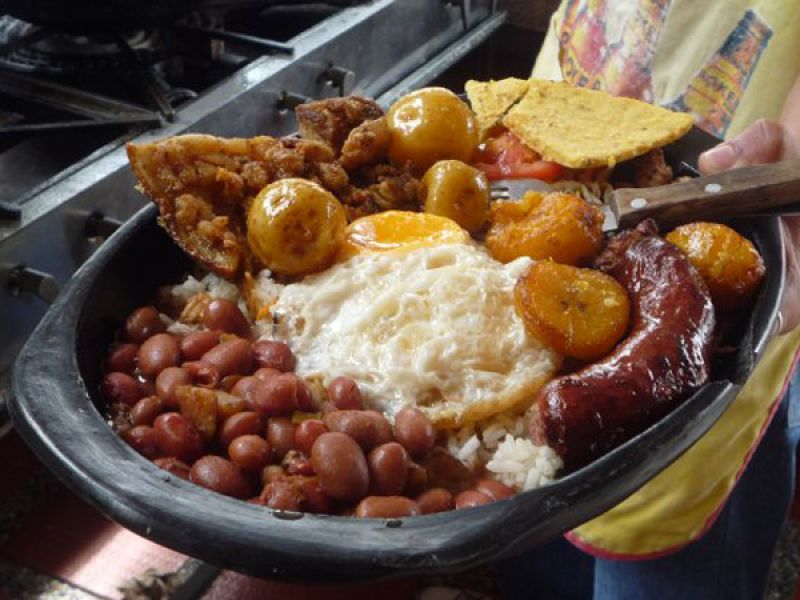 Difficulty:
Easy
Cost:
Fairly cheap
---
Ingredients
For 6 Person(s)
Recipe
3

cup(s)

Cargamanto Red Beans

6

cup(s)

chicken stock

1

medium shredded carrot

1/2

pound(s)

smoked pork necks or smoked ham hocks

1

green plantai, peeled and broken by hand into 1/2 inch peices
Sofrito
3

tablespoon(s)

vegtable oil

1/2

medium onion, chopped

2

green onions, chopped

2

clove(s)

garlic, minced

1/4

tablespoon(s)

gound cumin

1

large tomoto, puréed in a blender

salt & pepper to taste
Frijoles Antioqueños - Colombian Bean Soup Directions
Wash and leave the beans soaking in water, preferably overnight.
Drain the beans, and place them in the Black Clay, La Chamba Rounded Soup Pot along with the chicken stock, the shredded carrots, the smoked pork, and the plantain chunks, and over medium heat, bring to a boil. Reduce to medium low heat, cover and cook until the beans are tender, approximately 2 hours.
Make a sofrito in a large skillet by heating the oil and adding the onion, green onion, and garlic. When the garlic is fragrant, add the cumin, salt & pepper, and the puréed tomato, and cook for 10 to 15 minutes.
Add the sofrito to the beans, cover, and cook for about another hour, or until the beans are fully cooked and soft. Make sure to stir the beans with a wooden spoon periodically to make sure they don't stick to the bottom.