Huevos con Crema - Eggs in Cream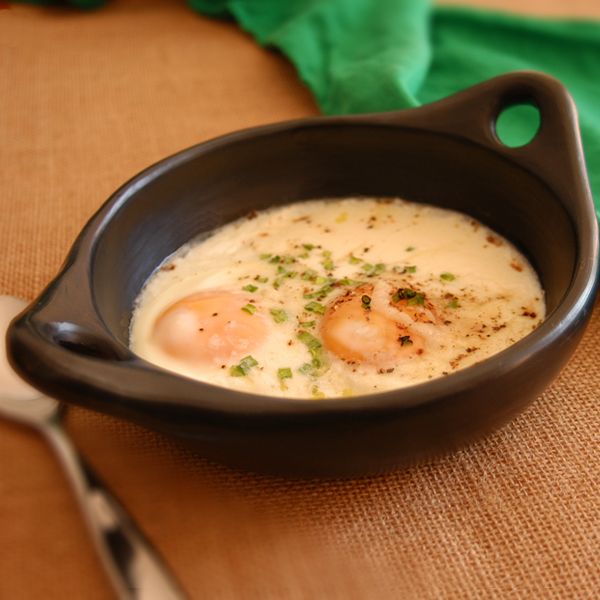 Difficulty:
Super easy
Cost:
Cheap
---
Ingredients
For 2 Person(s)
Recipe
4

large eggs

4

tablespoon(s)

Mexican Crema (or 2 tbs heavy cream combined with 2 tbs sour cream)

3

tablespoon(s)

shredded Mexican melting cheese, or Monterey Jack cheese

2

tablespoon(s)

butter, softened

2

tablespoon(s)

finely chopped fresh chives
Huevos con Crema - Eggs in Cream Directions
Preheat the oven to 425°F.
Place two heat proof gratin dishes such as our Black Clay Round Serving Dish with Handles in the center of the oven along with a tsp. of butter in each.
Once the butter has melted, crack two eggs into each dish and sprinkle with salt and pepper.
Drizzle 2 tbs. of the crema in each dish, starting over the yolks and working it all around, then sprinkle 1 ½ tbs. cheese and 1 tsp. chopped chives over the dish.
Place the dishes in the oven and bake at 425°F or until the eggs are bubbly and browned on the edges but not quite set in the middle (about 5 minutes).
Switch the oven to broil and broil the eggs until the center is just set (about 2 minutes more).
Remove from the oven and serve; the eggs will continue to set.