Sopa de Lentejas - Lentil Soup
In many Cultures, eating lentils on New Years is a tradition to bring luck and financial prosperity. The recipe below for lentils soup is a great one, and a great opportunity to use our Black Clay, La Chamba Traditional Soup Bowl.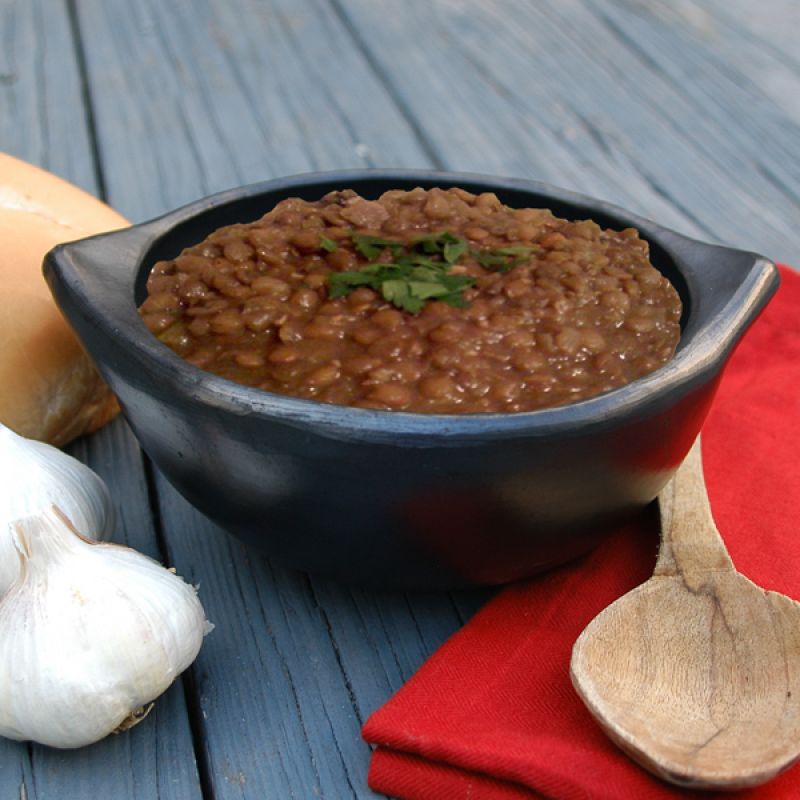 Difficulty:
Easy
Cost:
Cheap
---
Ingredients
For 4 Person(s)
Recipe
1

teaspoon(s)

vegtable oil

1

cup(s)

chorizo, sliced

1

medium onion, finely chopped

2

clove(s)

garlis, minced

1/4

cup(s)

chopped scallions

1/2

cup(s)

chopped tomatoes

5

cup(s)

water

1 1/4

cup(s)

dried lentils

1

small carrot, diced small

1

medium potato, diced small

1/4

teaspoon(s)

ground cumin

salt & pepper to taste
Sopa de Lentejas - Lentil Soup Directions
Start by warming up a pot such as our medium Casserole slowly, putting it with the oil on low heat, gradually increasing it to medium.
Add the chorizo and cook it in the oil stirring occasionally, about 5 minutes. Using a slotted spoon, transfer the chorizo to a plate lined with paper towel.
Add the onion, garlic, carrot, tomato, and scallions to the pot, season with salt and pepper and cook stirring occasionally for about 12 minutes.
Stir in the cumin and cook 1 more minute, adding the lentils.
Add the water slowly as to not crack the clay pot and bring to a boil.
Reduce the heat to medium low, cover and cook until the lentils become tender but not mushy about 45 minutes.
Add the potatoes and cook for 15 to 20 minutes more until the potatoes are fully cooked and fork tender, thin with water if necessary.