Salsa de Molcajete - Spicy Mexican Salsa
Probably the easiest of salsas to make is the Salsa de Molcajete (or Molcajete Salsa), and is a great accompaniment on tacos, fajitas, and many other recipes. The texture you get from making it in a Molcajete cannot compare with one make in a blender. On the recipe below, you can reduce the number of chilies if you want to reduce the heat factor, and a great one to use on the Molcajetes we carry.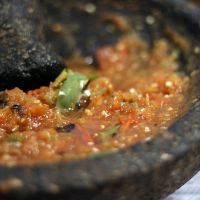 Difficulty:
Easy
Cost:
Cheap
---
Ingredients
For 4 Person(s)
Recipe
2

Plum or Roma tomotoe

2

Serrano Chilies

3

clove(s)

garlic

1

teaspoon(s)

white vinegar

salt to taste
Salsa de Molcajete - Spicy Mexican Salsa Directions
Roast the tomatoes, garlic and chilies on a dry Comal or dry sauté pan on medium high heat until charred, turning occasionally. Don't worry about the skins burning as this is actually part of the recipe and the charred skin will enhance the flavor with smoky undertones. The vegetables will vary in cooking time, so remove them as needed, and place on a separate plate to cool slightly as they char.
When cool, remove some of the darkest parts of the charred skin of the tomatoes and chilies as you can by simply pinching it off with your fingers.
Add 1 teaspoon of vinegar to the Molcajete and add the garlic and a small amount of salt and grind well.
Add the chilies (removing the seeds if you want less heat) and keep grinding until the chilies have broken down.
Add the tomatoes and grind to the consistency you desire. You might find it useful to remove some contents to make sure the content does not spill over.
Adjust the seasoning with salt if needed giving it a few more grinds, and combine all the ingredients, serving the salsa right in the Molcajete.