Guacamole en Molcajete - Mexican Guacamole
The texture you can get by making guacamole in a Molcajete just can't be duplicated by any other means. You have full control over how much to grind and therefore the size of the bits of tomatoes and onions, not to mention that you can use the Mocajete itself as an attractive bowl to serve it in.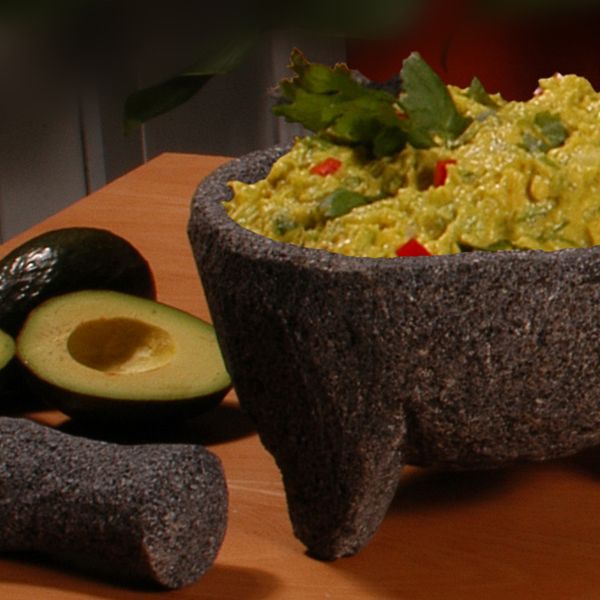 Difficulty:
Super easy
Cost:
Cheap
---
Ingredients
For 4 Person(s)
Recipe
2

ripe avocados

3

tablespoon(s)

cilantro leaves, finely chopped

2

tablespoon(s)

white onion, diced

1

ripe plum tomato, seeded and chopped

1/2

serrano or jalapeño chili, ribs and seeds removed, minced

1/4

tablespoon(s)

olive oil

4

tablespoon(s)

fresh lime juice
Guacamole en Molcajete - Mexican Guacamole Directions
Before you start working with the avocado, make sure to chop and prepare all the ingredients so that the avocado does not sit too long and begins to oxidize and turn brown.
Begin by adding the onions and 1 tbsp. of the cilantro leaves to the bowl of the molcajete and grind it with the stone pestle to your desired consistency.
Add half of the chili and grind some more, leaving the rest to add later depending on the heat of the chili, or your taste. Make sure to wash your hands thoroughly after handling the chili and do not touch your eyes or the area near your eyes with your hands for several hours.
Add the tomatoes and continue grinding but not as aggressively as with the onions. Personally I like guacamole rather chunky with the tomato pieces that you can see.
Now remove the flesh of the avocado by cutting it half, removing the seed, and scooping out the flesh with a spoon and add the flesh to the molcajete.
Add the olive oil, lime juice, salt and the remainder of the cilantro leaves, and grind all the ingredients to make a smooth, yet chunky paste.
Serve right in the molcajete along with tortilla chips.


Reviews
Tuesday, 15 December 2015
Great way to impress guests with both presentation and flavor. Awesome recipe!
- Spoolin1012