Kung Pao Chicken (宫保鸡丁) - Chicken with Vegetable
If you want to try your hand a cooking Chinese, the Famous Kung Pao Chicken will certainly get you excited, and a great opportunity to use our Mandarin Style Wok. Kung Pao is a cooking technique originated from the Sichuan province of China.

The original dish's main ingredient is Sichuan peppercorn and vinegar in the sauce, however, the version popular outside of Sichuan has since been adapted to many regional variations, especially toned down heat levels. This version is close to authentic so feel free to tone down the quantity of dried chilies to reduce the heat.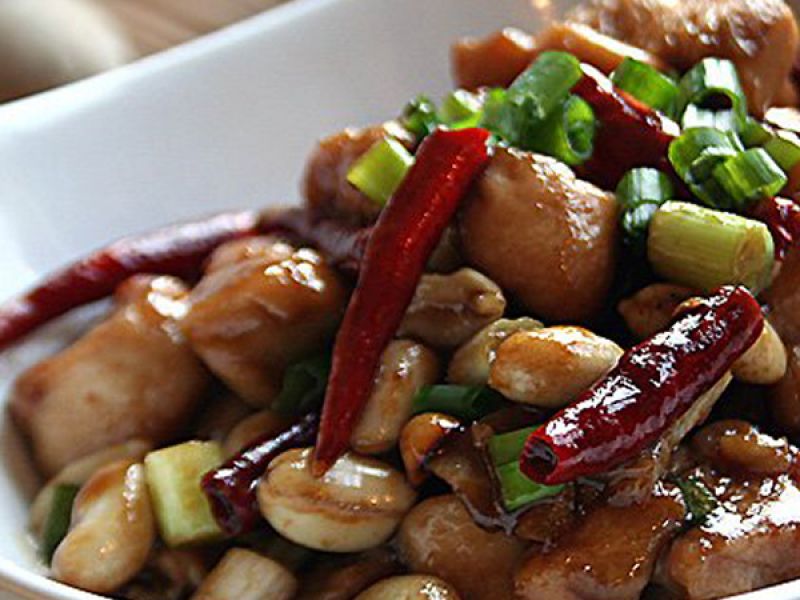 Difficulty:
Easy
Cost:
Fairly cheap
---
Ingredients
For 4 Person(s)
Recipe
1 1/2

boneless, skinless chicken breast

1

1 inch peice ginger, cut in slices

3

tablespoon(s)

roasted peanuts

2

clove(s)

garlic, sliced diagonally

10

dried red chilies, deseeded and cut in half

1

stalk(s)

scallion, chopped

3

tablespoon(s)

oil, preferably peanut

2

tablespoon(s)

water

1

tablespoon(s)

corn starch

2

teaspoon(s)

soy sauce

1

tablespoon(s)

Shaoxing wine, available in oriental markets

1

teaspoon(s)

oil
Sauce
1 1/2

tablespoon(s)

light soy sauce

2

tablespoon(s)

water

1

teaspoon(s)

dark soy sauce

1

teaspoon(s)

sugar

1/4

teaspoon(s)

black vinegar

1

teaspoon(s)

corn starch
Kung Pao Chicken (宫保鸡丁) - Chicken with Vegetable Directions
Cut the chicken meat into small cubes, then rinse them in water and pat them dry.
Mix the ingredients of the marinade and marinade the chicken pieces for at least 30 minutes.
Prepare all the ingredients because once you start cooking on the wok, it will go fast, including mix all the sauce ingredients together in a small bowl and setting aside.
Heat up the wok until its nice and hot and add one tablespoon of the oil and stir-fry the marinated chicken until they are about 70% cook. Remove the chicken from the wok and set it aside.
In the same wok and add in the remaining 2 tablespoons of oil and heat it until it begins to smoke. Add in the ginger and garlic slices and do a quick stir before adding in the dried red chilies. Continue Stir frying until the red chilies are aromatic and they smell spicy.
Add to the wok the reserved chicken meat.
Do a quick stir, then add in the roasted peanuts and toss a few times.
Add in the premixed sauce and stir continuously until the chicken meat is nicely coated with the sauce. Add in the scallions and stir evenly.
Remove the recipe from the wok, and serve hot with white rice.