Malaysian Claypot Chicken 瓦煲雞飯
Claypot chicken rice can either be served as dinner or lunch, and a very common dish in Malayisa. The rice is cooked in the claypot first, with the rest of the ingredients added later, making it a great one-pot dish.
Chinese sausage is very commonly used in rice dishes. It is a MUST add ingredient in claypot chicken rice. Without it, it would not be complete and authentic! The best part of this dish is the crusty bottom layer of the rice and the flavorful meat on the top. The meat is steamed so delicately, preserving its juices that adds a distinctive flavor to claypot chicken rice.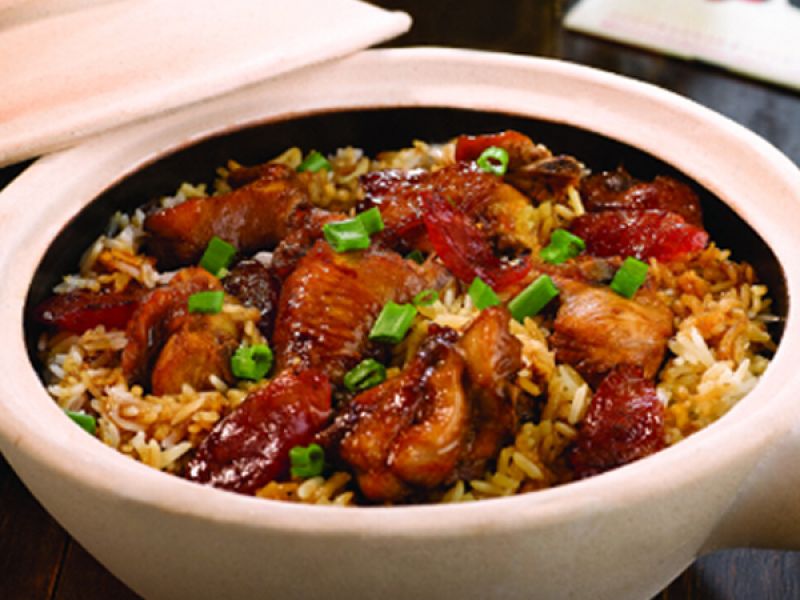 Difficulty:
Easy
Cost:
Fairly cheap
---
Ingredients
For 4 Person(s)
Recipe
1

Chinese sausage

4

chicken thighs, deboned and cut into bite size pieces

2

tablespoon(s)

oyster sauce

1

tablespoon(s)

dark soy sauce

2

tablespoon(s)

light soy sauce

2

clove(s)

garlic, chopped

1

teaspoon(s)

cornflour

2

tablespoon(s)

rice wine

1

inch ginger, julienned

1

teaspoon(s)

salt

1/2

teaspoon(s)

pepper

1

tablespoon(s)

brown sugar

3

spring onions, finely chopped

5

dried shitake mushrooms, soaked in warm water for 20 minutes

2

cup(s)

rice

3

cup(s)

chicken stock
Malaysian Claypot Chicken 瓦煲雞飯 Directions
Mix the chicken with all the ingredients except the rice, mushrooms, spring onions and stock, and leave to marinade for at least half an hour.
Heat 1 tbsp oil in a wok and stir-fry marinated chicken meat for 1 minute.
Add mushroom slices and sliced Chinese sausage and stir fry for a minute more. Remove everything from the wok and set aside.
Put the rice and chicken stock in a cold claypot and place it over a medium heat with the lid on. Bring to the boil and immediately reduce the heat to a low simmer, leaving the rice to steam for 15 minutes. The rice should be nearly cooked through.
Spread the chicken mixture on top of the rice in the claypot, and put the lid back on. Continue to steam over a low heat for another 15 minutes, until the chicken is white and cooked through.
Give it a few stir and sprinkle the spring onions over the top and serve piping hot.