Zucchini Lasagna
This is a great way to enjoy lower carb lasagna by replacing the lasagna noodles with thinly sliced zucchini.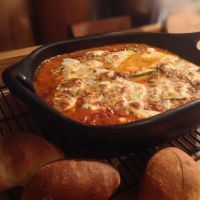 Difficulty:
Easy
Cost:
Fairly cheap
---
Ingredients
For 6 Person(s)
Recipe
1

large zuccini

2

cup(s)

ricotta cheese

1

egg

1/4

cup(s)

shredded Parmesan cheese

1

tablespoon(s)

italian seasoning

3/4

cup(s)

mozzarella cheese

2

cup(s)

tomato sauce (recipe below)
Tomato Sauce
1/4

cup

olive oil

1

carrot, cut into 1/4 inch dice

1

celery stalk, 1/4 inch dice

1

onion, diced

1

clove

garlic, sliced

1/4

cup

tomato paste

1

cup

milk

1

cup

white wine
Zucchini Lasagna Directions
Slice the zucchini into thin strips. A mandolin slicer makes this easy, but a knife works too. Lay out on paper towels, lightly salt, and let sit for about 10 minutes. This helps get rid of some of the water.
Heat up a skillet and lightly spray with non-stick spray or olive oil. "Grill" the zucchini over medium heat for about a minute on each side, just to get it cooked slightly.
Coat the Square Roasting Pan with olive oil.
Coat the bottom with tomato sauce (recipe below) and then line with zucchini strips.
Combine the ricotta, egg, Parmesan, and seasoning in a small bowl or dish, and mix well.
Top the zucchini with half of the cheese mixture, and then spread on a thin layer of tomato sauce (recipe below). Repeat.
Top with more zucchini strips and tomato sauce, and then sprinkle the mozzarella cheese on top.
Cover the lasagna with foil and bake in an oven at 350 degrees for about 45 minutes, or until the cheese on top begins to brown.
Let sit for a few minutes to cool, and then serve.

For the Tomato Sauce

Heat the olive oil, add battuto and cook until softened but not browned.
Add pancetta and ground beef and cook, until beef is not longer pink.
Add tomato paste and cook over low heat until shiny and rust-colored.
Add white wine and water to deglaze the pan.
Add milk and simmer over moderately low heat until thick and saucy, about 1 hour.
Season with salt and pepper.
Recipe notes
Make ahead instructions: the sauce can be refrigerated for up to 3 days.
Recipe by Chef Brian Cook, COOK with COOK LLC
For further details about this recipe visit: www.cookwithcookblog.com