Kerala Style Fish Curry in a Clay Pot
This recipe is original of the Kerala region, and normally made in Clay Curry Pots or "manchatti". An essential ingredient is Kudam puli which also known as Gambooge, Malabar Tamarind, Fish Tamarind etc., can be purchased at Indian grocery stores, along with most of the other ingredients. It is a sour the dried fruit and is used as a souring agent in fish curries and other seafood preparations from Kerala.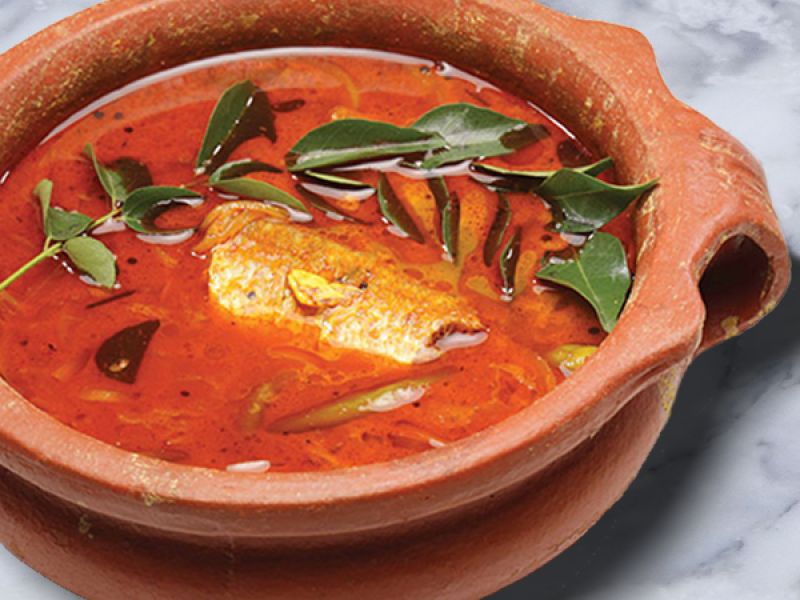 Difficulty:
Easy
Cost:
Fairly cheap
---
Ingredients
For 4 Person(s)
Recipe
2

pound(s)

firm fish such as mackerel

2

tablespoon(s)

coconut oil

15

shallot, finely sliced

1

small green chilli

1

inch ginger

6

clove(s)

garlic

3

Kudam puli, shredded

3

tablespoon(s)

red chilli powder such a Kashmiri

1/4

taespoon(s)

tumeric powder

1/4

teaspoon(s)

Fenugreek

1/2

teaspoon(s)

mustard seeds

1/2

teaspoon(s)

black pepper

2

cup(s)

water

2

sprig(s)

curry leaves
Kerala Style Fish Curry in a Clay Pot Directions
Wash the dried Kudam puli, and soak them in half cup of water.
While the Kudam puli is soaking, Clean the Fish and cut it into medium size pieces. If particularly thick, make some diagonal cuts along the body of the fish.
Finely slice the shallots, ginger, and garlic.
Put the Clay Curry Pot on the heat and slowly bring it up to temperature. Add the coconut oil to the pan, and add the fenugreek and mustard seeds and wait till they start to splatter.
Add the sliced shallots, ginger and garlic, along with the green chile and curry leaves and saute on medium heat, until golden brown, but don't let the shallots burn otherwise it will be bitter.
Lower the heat and add the chilli powder, turmeric, and pepper and slowly cook it while stirring for approximately 5 to 7 minutes, or until the raw flavor diminishes and the red color darkens. Be careful with the fumes as they might make you cough.
Add the soaked Kudam puli along with the soaking liquid, along with an additional 1 1/4 cup of water.
Bring the heat to high and adjust the seasoning with salt.
Once the liquid begins to boil, gently lay the fish in the clay pot, and cook over medium heat along with the curry leaves for approximately 10 to 15 minutes, or until fully cooked. Make sure to check it periodically and stir it ever so slightly to prevent the fish from sticking to the bottom and burning. If the liquid gets too dry, add a little more water.
Serve with basmati rice.