Tum Mak Hoong - Laos Style Papaya Salad
Tum mak hoong is a popular Lao dish that is fast becoming well known around the world for its unique spiciness and flavor. The term "tum" in Laos means to "smash and mix" which is why it is prepared in a Laos Style Mortar and Pestle.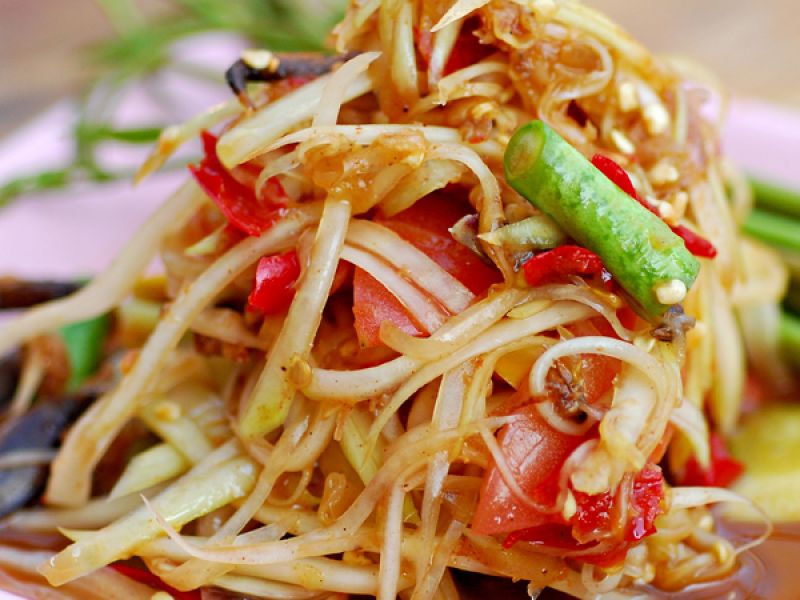 Difficulty:
Easy
Cost:
Fairly cheap
---
Ingredients
For 4 Person(s)
Recipe
2

cup(s)

shredded raw green papaya

1

clove(s)

garlic

3

chilies

pinch(es)

salt

1

tablespoon(s)

brown sugar

1

teaspoon(s)

shrimp paste*

1/4

teaspoon(s)

crab paste*

1

cup(s)

snake beans, chopped into strips

1/2

cup(s)

shredded carrots

1

tablespoon(s)

fish sauce*

1/2

cup(s)

cherry tomatoes

1

lime, cut into slices
Tum Mak Hoong - Laos Style Papaya Salad Directions
Peel the green outer layer of the papaya with a potato peeler. Shred the flesh of the papaya. Although you can use a grater, the traditional way is to place the papaya on a flat surface and cut into the flesh at about 1/8 inch intervals, then cut the papaya horizontally also at 1/8 inch intervals creating long thin shreds.
Combine garlic, chilies, salt, sugar, shrimp paste, and crab paste into mortar and pestle and grind until all the ingredients are well combined.
Add into the mortar the shredded papaya, snake beans, and carrots, and then add the fish sauce, cherry tomatoes, and lime. Mix and gentle grind all the ingredients to combine until the papaya starts to become darker in color.
Add the cherry tomatoes, adjust the seasoning, and serve.
Recipe notes
Shrimp and crab paste, and fish sauce can be found at most mainstream supermarkets in the Asian food section, otherwise at any Asian food store.