Portuguese Cod fish and Stingray Stew (Caldeirada de Bacalhau e Raia)
If there one thing common on any Portuguese table, it is salt cod or bacalhau. this recipe is a great example and a fantastic way to use a Cataplana.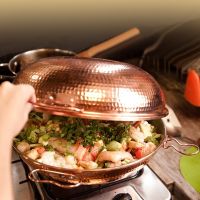 Difficulty:
Fairly difficult
Cost:
Fairly expensive
---
Ingredients
For 4 Person(s)
Recipe
1

lb

salted cod (bacalhau)

1

lb

stingray fins (or other firm fleshed fish)

5

medium

potatoes

2

cups

tomato sauce

1

green bell pepper

2

large

onions

5

clove

garlic

3

tbsp

olive oil

1

cup

white wine

1

bunch

fresh cilantro (coriander)

1/2

tsp

white pepper
Portuguese Cod fish and Stingray Stew (Caldeirada de Bacalhau e Raia) Directions
Pre-soaking the bacalhau by placing it cod into a container of cool water and change the water every 6 hours or so to remove the excess salt. This can be done for 2 days prior to making the recipe in order to remove as much salt as possible before cooking.
Cut the bacalhau and ray into 1 ½ – 2 inch chunks and set aside.
Peel the potatoes and cut them into ¼ inch slices and set aside.
Remove the stem and seeds from the bell pepper before thinly slicing and set aside.
Peel the onion and thinly slice into half-moons, and mix all but ¼ of the onion with the pepper.
Peel the garlic and thinly slice it.
Heat the olive oil in the cataplana over medium heat. Add in the garlic and ¼ of the onion and sauté for 1-3 minutes or until garlic is golden and onion is translucent. Layer the onion and bell pepper on top, some coriander, then add a layer of potato. Repeat until all the onion/pepper mixture and potato has been used, reserving a bit of the cilantro/coriander for later.
Pour in the tomato sauce, wine and season with pepper. Close the cataplana and bring it to a boil.
Once it's come to a boil, open the cataplana and add the fish to the pan, stir gently and cover again and reduce heat to low and allow it to simmer about 15 – 20 minutes or until the fish is cooked through. Turn off the heat, open the cataplana and add the last of the cilantro/coriander on top.
Serve immediately with Portuguese bread.
Recipe notes
Do not salt this dish before tasting it at the end.