Black Clay, La Chamba Rounded Soup Pot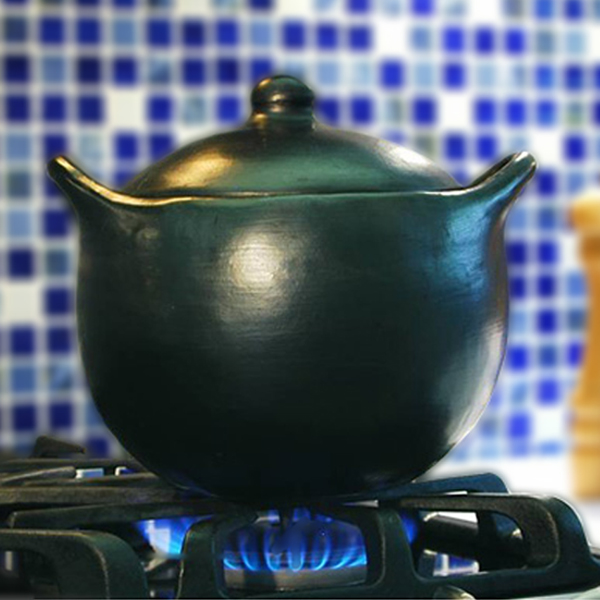 Rating: 4.86/5

Related Products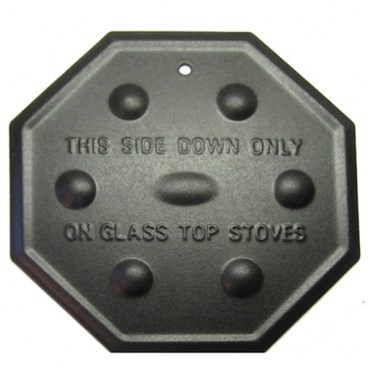 Heat Diffuser

Heat Diffuser
Products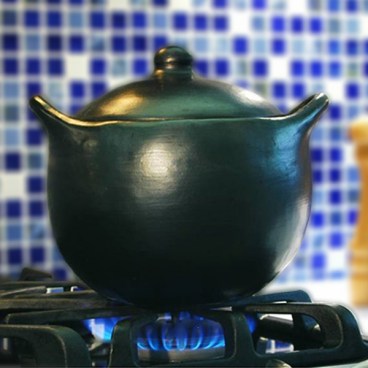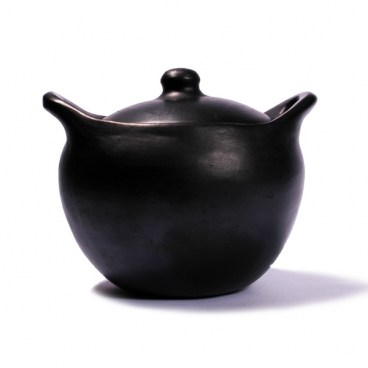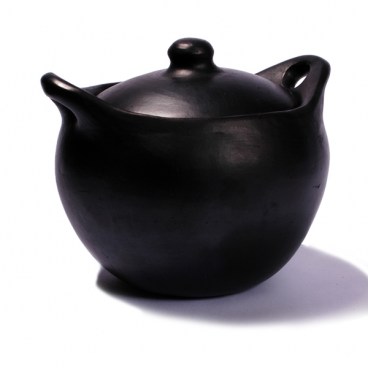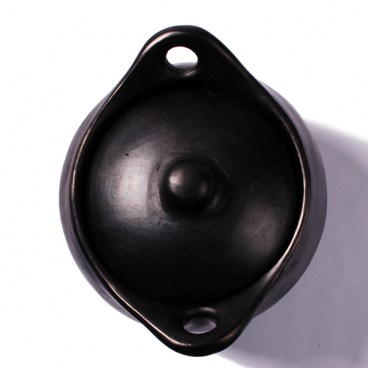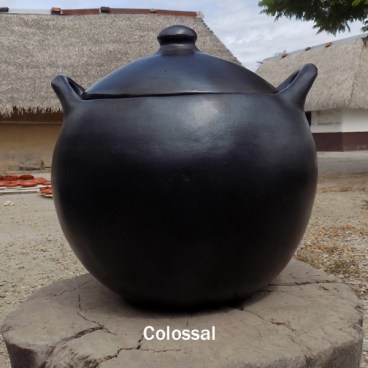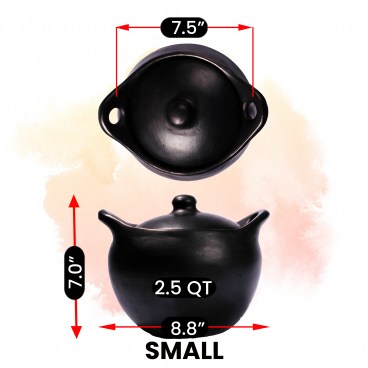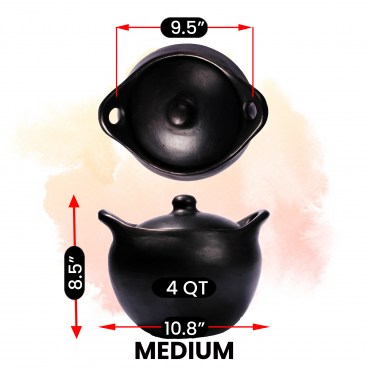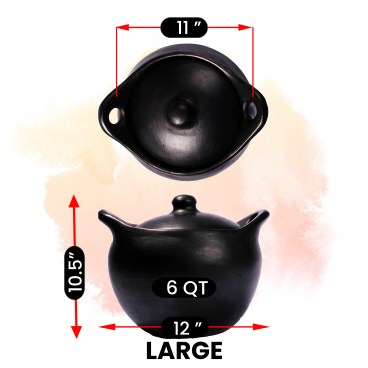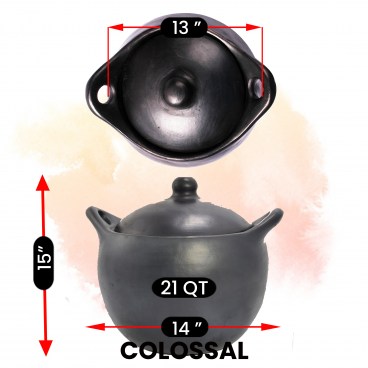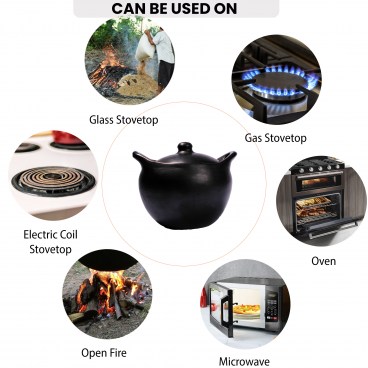 Description
About the piece

Care and Use

Curing

How they are Made

Recipes
Related Products
Reviews
Tuesday, 04 October 2016
I was reading the comments and felt some could be misunderstood. Never , when cooking on stove top, turn the heat up higher than mid range. (0-10, never higher than 5). Always gradual heat. When on stove top I place on 1 for a minute or so, then 2, gradual to 5. I don`t find it an issue. When used in oven; place in cold oven. Never set for `rapid heat`. I always select normal heating and never preheat. Also, olive oil is not a good choice for coating if you intend to use in oven. Olive oil does not due well in high heat settings. Use coconut oil or another choice I always soak my tops and bottoms in clean water, prior to use, fir 20 + mn. It helps steam. If food is not cooking properly then you are not cooking long enough. I never cook higher than 425, even though I have read 450 is acceptable. As for lingering odors, yes, that is going to happen due to this being made of a natural product and unglazed. I have three clay pots. One for breads, one for meats and one for veggies. I don`t mix for that reason but I also have no complaints. As with anything, research and practice.
Groovykarma
Saturday, 10 September 2016
I purchased this item after watching videos of how it is hand-made, and I liked the organic purity and shape of it. I also own some cast-iron cookware. My understanding is that the clay cookware cannot be used "dry". It also cannot be exposed to sudden temperature changes, so I add the room temperature or cold water and start the soup. I sweat the onions and garlic in a cast iron skillet, not in the clay pot, according to the directions that came with it. I did not purchase a diffuser because I have a small cast iron skillet that it sits in while cooking over the (very low) gas flame. The skillet also works to catch any overspills. Doing it this way is the equivalent of a slow cooker, and the unglazed clay -- for some reason -- makes better tasting soups. I have no explanation for why suddenly I am loving the taste of my soups more than before. The 2.5 quarts is a bit large for one serving for a single person. I was able to boil spaghetti noodles in the pot (pushed the noodles down as they softened). I intend to purchase more La Chamba cookware ... glad I discovered it. The company, Ancient Cookware, super-packaged the pot in heavy-duty bubble-wrap, wadded packing paper and a thick cardboard box -- there was no way it could get broken in shipping. The lid fit perfectly, and if I want a tighter seal I can insert a silicone pad. I don`t use any soap to clean it - just some water and baking soda (or vinegar), and I can give it a good wipe-down with some coconut oil. I usually sanitize and keep down fungus or molds using hydrogen peroxide (H202) spray. To sum, this is a preferred material over cast iron for long cooking and cooking acidic foods, such as tomatoes, tomato sauces. The cast iron is good for sweating the onions and garlic, and meats for the soups or stews. Otherwise, the body cannot well assimilate the hard iron mineral that is leached from the cast iron during long or acidic cooking... the body needs a "bio-available" iron from dark leafy greens, etcetera.
Gnosis
Wednesday, 31 August 2016
Made from high quality clay… best in the world in terms of quality. Great for everyday use.
jennifer bailey
Thursday, 10 March 2016
Absolutely beautiful pots! I bought 4 La Chamba pots , one Comal and 4 bowls. Love the texture and aroma of every single dish cooked in La Chamba. Customer service is amazing too. I bought curry pot through their website.
Gita N Avadhany
Saturday, 27 February 2016
Arrived on time. Good cookery. However, there are burn marks from cooking on the stove.
Joan Bruner Timmons
Saturday, 30 January 2016
First one arrived broken, and they sent a replacement right away with such grace and courtesy. It`s a lovely, earthy pot. We love it.
Santa Fe Woman
Tuesday, 19 January 2016
It is functional and beautiful at the same time. It does have to be seasoned before you use it.
Kathy Raney
Tuesday, 06 October 2015
I used the pot to make a columbian corn and chicken stew. It cooked beautifully and washed easily. It is a beautifully made pot. I could not be happier.
J. H. W
Thursday, 27 August 2015
I like lachamba. I use it camping. It`s very nice for casseroles for two people.
Jerez
Friday, 31 July 2015
The 4 Q soup pot is big enough to cook an entire medium size chicken stew. I use a cast iron diffuser for my clay pot and following instructions will have your pot last you a long while. The flavors that comes from using a clay pot is unlike any cooking utensil, because it`s just natural. In the video shared, we use clay pot in my Country; The Ivory-Coast which is in West Africa, to cook a chicken stew called "KEDJENOU", meaning "to shake" because this stew is not to be stirred with a spoon by opening the lid but simply by shaking the pot a couple of times during cooking. You basically dump everything in once; cut in pieces 1 free range chicken or guinee fowl(taste better), diced 1 large onion, diced 2 medium to large heirloom or plum tomatoes, diced 1 or 1/2 hot pepper depending on tolerance (jamaican or habanero), diced or crushed 1 large garlic clove, 1 tbsp or crush 1 Maggi beef cube or any beef bouillon, not chicken, salt to taste, about 3/4 to 1 cup water. Optional- add 1 tbsp tomatoe paste for a sweeter taste and more colorful. Dump everything in the clay pot, add water, cover and let it cook for 45 min to 1 hr, shaking (not too much) pot every 20-30 minutes to stir the food. Serve with white rice. Bon appetit!
Tulippenoire
Thursday, 04 June 2015
I have a few thoughts on the product which I used for the first time yesterday to make some Peruano beans on a gas range using a heat plate. Don`t use metal utensils or your will scratch the bottom. More importantly, the black finish will not last. Already, a hot pad used to lift the lid about 6-8 times has rubbed the finish off the top of the knob on the lid revealing the terra cotta clay below. Similarly, the bottom of the pot now has a ring of terra cotta instead of black after slow cooking the beans for about 3 hours on low on a heat plate and left a terra cotta ring on my heat plate.
R. Sutis
Thursday, 01 January 2015
Omg this is beautiful, priceless
Esther Orbera
Tuesday, 14 October 2014
This pot is simply gorgeous. And it works great. I made a chicken stew in it and the chicken came out wonderfully moist and tender. I will be using this pot often. Be sure to use a heat diffuser and warm the pot up slowly, don`t just turn the heat on on high. Also make sure that there is liquid in the pot before setting it on the burner. It takes a bit longer to bring the contents to a boil, but the result is worth the wait. I`m new to cooking in clay vessels, and after the great result with the stew I will be looking for clay roasters and tangines as well.
Anonymous
Wednesday, 23 July 2014
I did not purchase my pot from Amazon but it is the same pot. I have cooked all types of beans in this pot and have never had better beans as far as flavor and texture. I have tried green beans, white beans, pinto beans and a combination of various type of beans and all have come out wonderful. I think the key is the initial heavy boil and then a low heat simmer of an extended period of time and without a fear for burning or scorching the contents. Try it and you will love it. This pot is wonderful.
Kenneth Reynolds
Saturday, 19 July 2014
Had to go back and purchase a diffuser to use this on my glass top stove, but this was exactly what I was looking for to cook my heirloom beans.
Mspriss678
Friday, 13 June 2014
I love cooking and have every kind of nice things that anyone can have in a kitchen. This so far is the nicest thing ever! I made "Ajiaco" and invited a group of friends over. The taste was unbelievable, not to mention the cumpliments on the beauty of the pot. Please make sure you follow closely the directions of how to use it. I am planing in buying many other items like this.
Constanza
Tuesday, 22 April 2014
First, I don`t like to do any review although. This Clay pot is great, when I used it, - It gives me a great memory of my home town where I was born , everything is so natural . - The small of the pot while doing cooking....Oh Gosh .... it is wonderful smell. I am going to order more , I love big pots because I love to cook!
Sri Class
Friday, 24 January 2014
Great Customer Service! O.K. I originally purchased this item in January and when it arrived, the lid did not fit at all. I emailed the vendor and they arranged to have a new one sent out immediately and it arrived today. Everything fits perfectly, the pot looks beautiful and best of all, since these things happen, the vendor stood behind thier product and made everything right. So, in addition to giving the La Chamba pot 5 stars, I would like to give Ancient Cookware 5 stars as well, because the quality of their customer service was worth at least that.
L. Worley
Friday, 01 November 2013
a beautiful soup pot. good quality it`s not only a soup pot ,but also it`s art. it`s my 2nd La Chamba pot, I will buy more......
T. Feng
Wednesday, 04 September 2013
I really like to cook beans and chicken soup on it. It is beautiful and functional. Once you turn down the heat keeps food warm for an extended period of time
Cocoa