Paying a Visit to Plaza Minorista – Medellin, Colombia
Situated northwest of the country's capital of Bogota, Medellin is a city known for its vibrant atmosphere, lively plazas, and beautiful fertile mountainous surroundings. Medellin is also Colombia's second largest city.
One of the jewels of the city is the Plaza Minorista – a massive commercial market located right downtown. It boasts everything from fresh meats, fruits, and vegetables to shoes, clothing and almost anything else in between. Of course, our draw to the market was the food, both prepared and unprepared.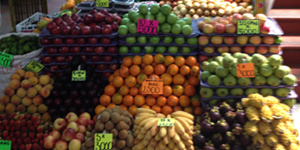 Beautifully Arranged Fruits
During our last visit to Colombia to buy the beautiful Black Clay, La Chamba Cookware carried at Ancient Cookware, we were fortunate to have had the opportunity to visit the market and wander through the endless isles of stalls. Seeing the boundless array of ingredients as we made our way through Plaza Minorista, we were inspired and were eager to get back home to try out some recipe
It is hard to pin point what exactly makes this one of the best plazas in town, but it was certainly one of the many highlights of our trip. In fact, we loved it so much that we wanted to share with you the following information that will hopefully prove to be useful the next time you find yourself in Medellin, Colombia.
Brief History
Since 1894, plazas have been a part of the weekly routines of the locals in this part of the world. Since the opening of Plaza de Flores in Buenos Aires, plazas have served not only as a time to purchase groceries for the rest of the week, but also as a very social and cultural tradition. Plaza Minorista was established in 1984 for the purpose of removing vendors from the street. It now serves as a fantastic place to purchase goods and handicrafts of all kinds for both the locals and the city's visiting tourists
The Stalls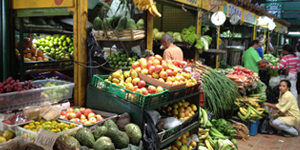 Vegetable stall in the Plaza Minorista
There are over 2,500 stalls at Plaza Minorista; meaning that you certainly won't be in any shortage of goods! The market has two floors, each divided into sections.
One such section features fruits and vegetables, so fresh you can even smell the fresh dirt on root vegetables. All locally grown, the fruits and vegetables are neatly stacked and arranged. Many of the items offered are not common in the US. There is an entire section for Bananas and Plantain, a staple of the Colombia Diet, and another section for beans and root vegetables.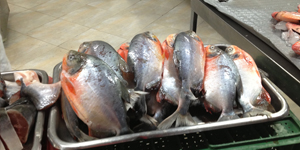 Red Bellied Piranhas for sale
There are also sections for meats, poultry and fish, which are definitely not for the squeamish at heart. Animal carcasses hang behind counters and are butchered right before your eyes. The poultry sections has live animals. The fish stall offers all kinds of delicacies, including fresh water fish, some from the Amazonian rain forests.
Another great section contains lacteous products, cheeses and eggs. Different stalls offer a great selection of locally produced aged and fresh cheeses. Originally established to feed the workers of the Plaza, in the back of the second floor is a section with prepared food stalls. When we were there we had Sancocho de Bagre, or fresh water catfish soup. The fish is cooked along with potatoes, yucca, and plantains, with its richness coming from the coconut milk (see the recipe on our recipe section). It is said that there is nothing better for a hangover than Sancocho de Bagre. If it is your first time visiting a market or plaza like that of Minorista, you may want to allow plenty of time to see as many stalls as possible. The people the work at the plaza are typically friendly and ready to help answer any questions you may have, which makes the experience all the better!
Location & Hours
Plaza Minorista can easily be reached by public transportation taking advantage of either a taxi or the metro – getting off at the Estacion Prado stop and heading a few blocks east where you will eventually come to a grand brick entrance. The hours of the plaza are Monday thru Saturday from 4:30am to 6pm and Sundays 4:30am to 3pm. We hope you'll have just as much fun paying a visit to Plaza Minorista as we did!
Gallery: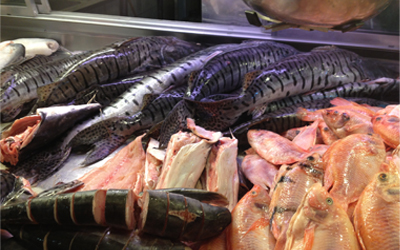 Bagre Catfish and Tilapias for Sale
Local Fruits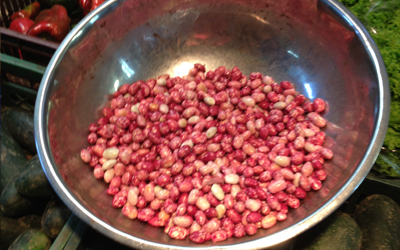 Fresh Cargamanto Beans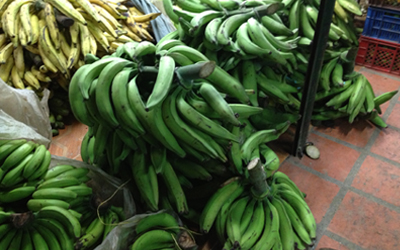 Plantains, the national staple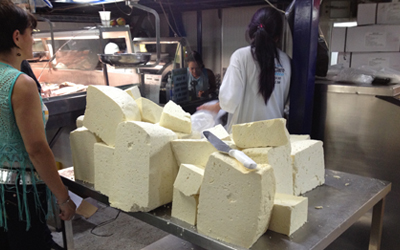 Fresh Cheeses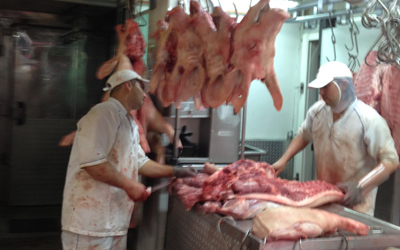 Whole Pigs for Sale