Sancocho de Bagre
This version of a Fish Stew, known as Sancocho, is made with a very popular fresh water catfish available in Colombia. The fish is cut in "steaks" crosswise, but you can easily substitute any available Catfish or other firm fleshed fish for that matter. It is normally served with white rice and sliced avocado on the side, and rumored to be a great cure for hangover. With Bagre, be prepared to deal with plenty of fish bones.
Sancocho is an incredible popular soup in Colombia made with plantain, potato, yuca, corn, and your choice of meat. It is normally served as an entire meal along with the rice and salad.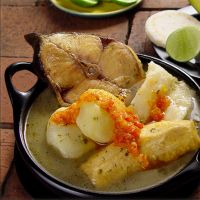 Difficulty:
Easy
Cost:
Fairly cheap
---
Ingredients
For 4 Person(s)
Stew
2 1/2

qts

water

1

small onion, chopped

2

stalks

green onion

2

clove

garlic

pinch

yellow food coloring*

2

large plantain, broken into pieces**

1

lbs

yuca, broken into pieces**

1

lbs

small red potato, peeled and cut in half

2

ears

corn, cut in four segments

1

sprig

thyme

1

tsp

ground cumin

2

lbs

bagre, catfish, or any other firm fleshed fish, preferably cut in

1/3

cup

cilantro, finely chopped

salt and pepper to taste
Garnish
white rice

avacado

lime wedge
Sancocho de Bagre Directions
Fill a 4 qt Black Clay, La Chamba Casserole or Soup Pot with the water and slowly bring to a boil.

Add the onion, green onion, green onions, and yellow food coloring and cook for about 5 minutes.

Reduce the heat to medium and add the plantains, yuca, potatoes, corn, thyme, cumin and salt and pepper. Simmer for about 25 to 30 minutes.

Add the fish and chopped cilantro, and cook for an additional 12 to 15 minutes.

Serve along with white rice, avocado, and the lime wedges.
Recipe notes
* In Latin American cuisine yellow food coloring in an important element to make bland looking foods prettier. It can be regular yellow food coloring, the spice achiote, or available in Latin market such products as Bijol, or Goya spice blends with food coloring.
** Many Colombian cooks swear that a Sancocho tastes different if the plantain and yucca are cut rather than torn into pieces. The plantains and yucca can be broken into pieces by starting to cut it with a knife, but twisting it until about 1.5 inch pieces break off.