Flan de Caramelo - Caramel Custurd
This recipe for flan is one of my favorite, and brings back fond memories of my Grandmother. I still have her recipe, in her own handwriting, in my treasure collection. It can be served in one large piece, or as individual servings for more dramatic presentations, especially when served on Slate Plates.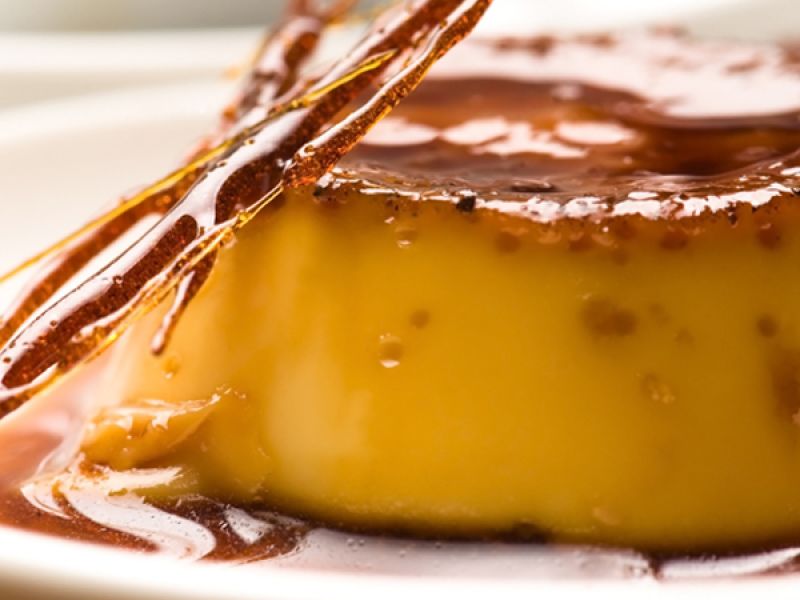 Difficulty:
Easy
Cost:
Fairly cheap
---
Ingredients
For 6 Person(s)
Recipe
5

eggs, yolks separated from the whites

14

ounce(s)

sweetened condensed milk

14

ounce(s)

water

1/4

cup(s)

sugar

1

tablespoon(s)

vanilla

1

pinch(es)

salt
Tart
Flan de Caramelo - Caramel Custurd Directions
For the mold:

Begin by making a caramel coating for the bottom of the mold, or individual ramekins by heating the sugar with a few drops of water in a small saucepan let it cook but do NOT stir. Move the pan around until it gets to a nice golden brown.
Pour the caramelized sugar into your mold or ramekins, by moving the mold around to coat the bottom and sides if you wish. By careful as the caramel is extremely hot and can cause a bad burn.
Set it aside and let it cool completely. It will feel smooth and hard, like glass.

For the Flan:

In a large bowl and using a hand mixer, beat the egg white to soft peaks.
Continuing with the hand blender, slowly add the yolks, one at a time until each one is completely incorporated.
Add in the condensed milk and water until it's completely well blended.
Add the sugar, vanilla and pinch of salt and blend until fully incorporated.
Pour the mixture into the caramelized mold or ramekins.
Cover the mold tightly with aluminum foil, and put the flan into an ovenproof dish or baking pan and fill with hot water to about half-way up the sides, or as high as you can go without spilling hot water on yourself.
Bake for 45 minutes in a 350° oven, or until a toothpick inserted in the center comes out clean. Keep an eye on the level of water - it can easily evaporate.
Once cooked, remove the mold from oven and water bath and let it cool completely, then refrigerate to chill for at least one hour before serving.
To serve, run a knife around the edge of the mold, place the serving platter on top, and invert the entire thing. The Flan should come loose in one piece unto the platter.