Ajiaco Santafereño - Chicken and Potato Soup
If you like Chicken Soup, you will love this recipe. In Colombian cuisine, this is the most representative dish of Bogotá where it is one of the most popular dishes and a cultural mainstay, and a perfect soup to cook slowly in our Black Clay, La Chamba Casseroles.

What makes this soup so unique and tasty is the aromatic herb, guasca, which lends the dish its distinctive flavor. Guasca is a bit hard to come by, although available more and more at Hispanic Markets specializing in Colombian foods. If you can't find it, contact us maybe we can help you find it.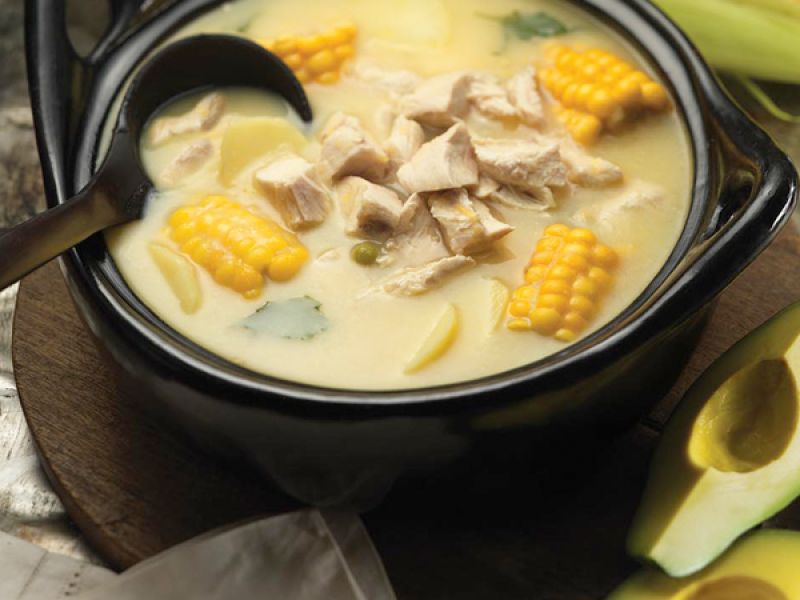 Difficulty:
Fairly difficult
Cost:
Fairly cheap
---
Ingredients
For 6 Person(s)
Recipe
3

whole

bone-in chicken breasts

1

cube(s)

chicken bouillon

3

stalk(s)

green onion, roughly chopped

2

bay leaves

3

sprig(s)

cilantro

1

clove(s)

garlic

12

cup(s)

water

1/3

cup(s)

dried guasca

3

pound(s)

new red potatoes, peeled and cubed into 1 inch peices

1 1/2

pound(s)

russet potatoes, peeled and cubed into 1 inch peices

1 1/2

pound(s)

papas criollas, or gold potatoes

3

ear(s)

medium fresh corn
Garnish
Serve with
1

cup(s)

Heavy Cream

1/2

cup(s)

small capers (nonpareilles)

cooked white rice

sliced avocados
Ajiaco Santafereño - Chicken and Potato Soup Directions
To make the soup, remove the skin from the chicken breasts removing as much fat as possible, and add salt and pepper to taste.
In a large Black Clay, La Chamba Casserole pot, slowly bring to the boil the 12 cups of water. Once boiling, add the chicken breasts, bouillon cube, green onions, bay leaves, and cilantro, and simmer over medium heat for approximately 30 minutes or until the chicken is cooked and tender.
Remove the chicken breasts and strain the broth. Let the broth stand for a few minute, and skim off any accumulated fat and any foam that forms on the top of the liquid.
Remove the chicken meat from the bone and shred the meat with two forks and set aside.
Remove the husks and silks from the ears of corn, and break into 3 inch pieces.
Return the broth back in the clay pot, and add half of the Guasca, the red potatoes and the pieces of corn and boil for 10 minutes.
Add the russet potatoes and continue to cook for 20 minutes.
Add the papas criollas (or golden potatoes), cover the pot and continue to simmer for about 1 hour, or until the soup begins to thicken.
Return the shredded chicken and the rest of the Guasca to the soup, and simmer for an additional 10 minutes, adjusting the seasoning if needed.
Serve the soup in a Black Clay, La Chamba Traditional Soup Bowl for an authentic look, making sure each bowl has some chicken, potatoes and one or two pieces of corn.
Garnish the soup with some a few chopped cilantro leaves, and accompanied the soup with cream, capers, and aji sauce in a Black Clay, La Chamba Triple Salsa Dish so each diner can add to his liking, and serve with rice and a slice avocado.