Arroz a la Zamorana - Zamoran Style Rice
This is one of the most popular recipes from the Alcañices area of Spain, and the most popular rice dishes in the whole of Spain, following the paella. It is especially popular in the cold climates of Zamora, where its origins can be traced back hundreds of year. As then, the rice today is normally cooked in the famous Hand-Made Paella Cazuelas from Pereruela due to the heat retaining properties of the clay from the region which evenly distribute the heat and preventing the rice from over cooking. Its delicious appearance is due to various hues coming from the pork and red pimiento.
This recipe is slightly adapted for the American palate as the original contains various pig parts such as ears, nose, and cheeks.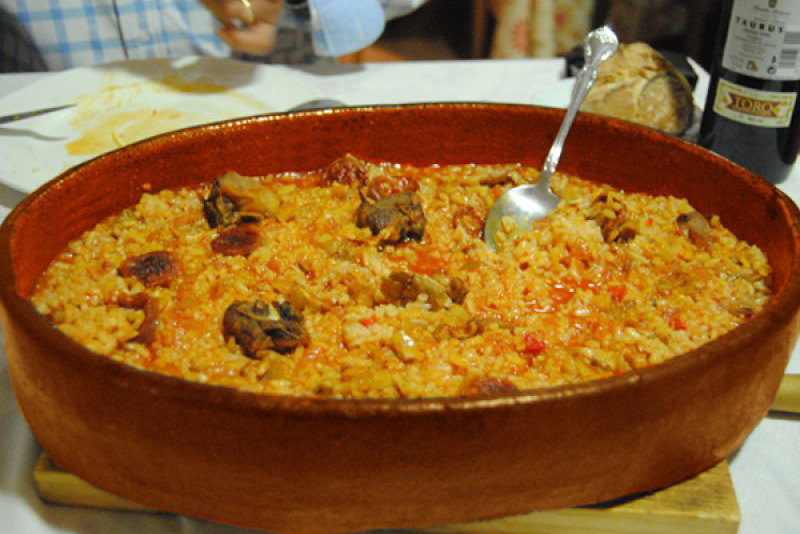 Difficulty:
Fairly difficult
Cost:
Fairly cheap
---
Ingredients
For 4 Person(s)
Recipe
12

ounce(s)

salt pork

1

pigs foot

2

small onion

1

sprig

tyme

1

pork chop (approximately 5 oz)

3

ounce(s)

smoked ham

4

jarred piquillo pepper, finely diced

3

clove(s)

garlic

1

tablespoon(s)

smoked sweet paprika

2

tablespoon(s)

olive oil

1 1/2

cup(s)

short grain rice

1 1/2

tablespoon(s)

salt
Arroz a la Zamorana - Zamoran Style Rice Directions
Clean the pig's foot by rinsing it under running water and scraping the outer skin. Place the foot, salt pork in a pot with water to cover and boil for a few minutes until foam impurities come to the surface.
In the mean time, debone the pork chop reserving both the meat and the bone.
Drain the water and rinse the meat under running water. Refill the pot with water adding a small onion cut in half, the bone of the pork chop, and the sprig of thyme and simmer over low heat until the meat is tender, approximately 3 hours.
Remove the meat from the water and reserve the broth for cooking the rice.
When cool, de-bone the pig's foot and cut the meat, into small pieces.
Cut the ham, salt pork, and pork chop meat into small cubes.
Finely dice the piquillo peppers and the other onion, and finely chop the garlic cloves.
Slowly heat a round 3 qt. (30 cm) clay Paella Cazuela, and sauté the onion, piquillo peppers, and garlic cloves until it is fragrant.
Add the paprika, ham, salt pork, pork chop, and pig's foot meat and cook until golden.
Add the rice and sauté for a minute, then add 3 ½ cups of the reserved broth.
Slowly simmer the liquid for about 20 minutes undisturbed, or until the water is almost all absorbed.
Remove from the heat and let the rice rest for approximately 10 minutes before serving, fluff the rice with a fork and serve.