Easy Chicken Stew - Olla Tapada
If you want an easy recipe where you just place everything in a pot and you don't have to worry about stirring, toasting, grinding, blending, or watching the meal for hours, then this recipe for Olla Tapada is for you! "Olla Tapada" means "covered pot", and this dish is usually made in a large, deep clay pot.
This "Olla Tapada" recipe is more common in the states of Veracruz, Oaxaca, and Chiapas, where the typical vegetables used are carrots, potatoes, and chayotes, but I have found that cooks in Chiapas have many variations of this dish that can use green peas, red peppers, plantains, oregano, saffron, and even Achiote paste. All this is cooked with wine and vinegar; some use Sherry wine, too. If you don't want to use wine or vinegar, you can use chicken broth as a substitute.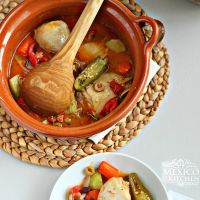 Difficulty:
Easy
Cost:
Fairly cheap
---
Ingredients
For 6 Person(s)
Stew
2

tbsp

olive oil

6

chicken pieces (legs and thighs)

4

medium carrots, peeled and cut into 1 1/2 in cubes

1

large chayote, peeled and cut into cubes

6

plum tomatoes, sliced

1/2

medium onion, sliced

2

large garlic cloves, finely chopped

10

stuffed olives, sliced

2

tsp

capers

1/3

cup

raisins

2

bay leaves

2

sprigs

of thyme

1/2

stick of Mexican cinnamon

1 1/2

cup

white wine
Easy Chicken Stew - Olla Tapada Directions
Season chicken pieces with salt and pepper.
Add the olive oil to the bottom of the clay pot, making sure it is spread all over. This will help to keep the chicken from sticking to the bottom.
Place 3 pieces of chicken and half of the carrots, chayotes, tomatoes, onion and garlic over the bottom of the pot to form the first layer.
Next, add the other 3 pieces of chicken and the rest of the ingredients, including the cup of wine. You do not need to stir it or do anything else.
Place the lid on and turn the heat to medium. Once it starts boiling, immediately reduce the heat to a gentle simmer.
Let it cook for about 45 to 50 minutes until the chicken is cooked. Halfway through the cooking to time, check to see if it needs more liquid, although usually it won't need it since all the chicken, tomatoes, and the rest of the veggies will release their own liquid. In case it does need it, however, you can add warm water or chicken broth, just a few tablespoons at a time.
Once cooked, serve with rice and warm corn tortillas, although a nice warm crusty bread will also be really good for soaking up all those flavorful juices. Enjoy!