Kal Dosa
A spongy, crispy and healthy south Indian style pancakes which are not only nutritious but also easy to prepare. Prepare this for breakfast or dinner and serve with chutney or dal.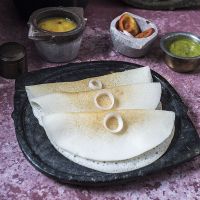 Difficulty:
Fairly difficult
Cost:
Fairly cheap
---
Ingredients
For 3 Person(s)
Recipe
1

cup

uncooked rice

1

cup

parboiled rice

1/2

cup

split black gram / urad dal

1/4

tsp

fenugreek seeds

salt to taste
Kal Dosa Directions
Soak raw rice and parboiled rice together in a bowl. Let it soak overnight. Similarly, combine urad dal and fenugreek seeds in a bowl and fill with water. Let it soak overnight.
Next day, grind soaked split black gram and fenugreek seeds in a mixer grinder to smooth paste adding enough water.
Now, grind rice similarly adding enough water to smooth paste. Mix rice paste and urad dal paste together in a wide mixing bowl. Let it ferment for minimum 5-6 hours. The time may vary depending upon the room temperature. Once fermented, use this batter to prepare dosa or Paniyaram in a soapstone vessel.
To prepare dosa, take the cured soapstone tawa. Heat it on low flame for 5 minutes. Take an onion and cut into two halves. Take one half and dip the cut part in oil. Use this to grease the tawa.
Switch to low medium flame. Take a ladleful of fermented dosa batter and pour it over tawa. Spread the batter in clockwise direction with the help of ladle to form a large disc just like we do to prepare pancake.
Pour a tsp oil all over dosa and close the tawa with a lid. Let it cook for 2 minutes. Remove the lid. Carefully remove dosa with a flat ladle and proceed with the remaining batter. Serve dosa with chutney and sambar / dal.
Recipe notes
Always cook dosa on low medium flame. Before pouring the batter, grease the tawa with little oil. For last 2 batches, you can switch off the tawa and prepare dosa because it stays hot for longer time.
Recipe by Preeti Tamilarasan, JOPREETSKITCHEN
For further details about this recipe visit: http://www.jopreetskitchen.com/