White Bean Soup
What a great soup to have on a cold day some some crusty bread.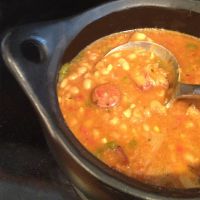 Difficulty:
Easy
Cost:
Fairly cheap
---
Ingredients
For 4 Person(s)
Soup
2

tbsp

olive oil

4

oz

smoked jowl bacon

1

Spanish style chorizo

1/4

medium white onion - chopped

14

oz

white kidney beans

24

oz

beef stock

32

oz

water
Sofrito
2

tbsp

olive oil

1/2

medium white onion - chopped

1

shallot

4

clove

garlic - minced

1/2

green pepper - chopped

1

roasted red pepper - chopped

2

small tomatoes - liquefied in a blender

3

bay leaves

1/2

cup

dry white wine

1/2

tsp

paprika

1/2

tsp

oregano

1/4

tsp

ground cumin
White Bean Soup Directions
Slowly heat 2 tbsp of olive oil a clay pot until hot and sauté the bacon and chorizo until the chorizo begins to sweat and color the oil.
Add ¼ of the chopped onion and shallot and cook until the onions are translucent.
Add the beans and sauté a few minutes then add the beef stock and water and cook until the beef softens, about 3 hours.
When the beans are soft, in a separate saucepan begin a sofrito under high heat sautéing the onion, shallot, garlic, pepper, and red pepper in olive oil.
When the onion is translucent and the garlic fragrant, add the bay leaves, paprika, oregano, and cumin, then deglaze with the white wine.
Add the liquefied tomato and let simmer for approximately 5 minutes or until it thickens slightly.
Add the sofrito to the beans and cook them for about 10 more minutes. The soup should thicken after the addition of the sofrito. If it becomes too think, you can always thin it some be adding a bit more water.