Filipino Kare-Kare (Oxtail and Tripe Stew in Peanut Sauce)
Kare-Kare is a classic Filipino slow-cook stew, usually using oxtail bok choy, string beans and eggplant, with deliciously thick deep yellow peanut sauce. It has a very subtle taste because it is traditionally unsalted, allowing the flavors of the peanut sauce and the meat to come out.
An authentic recipe takes a lot of effort and work. It involves roasting and grinding peanuts and glutinous rice for the sauce. And of course, it would be done on a manual stone grinder. We sell stone grinders of different kinds so you can go that route or in the recipe below, we include store bought rice flour and peanut butter. It's a great dish to serve along with rice.
This recipe is perfect for the Palayoks we sell.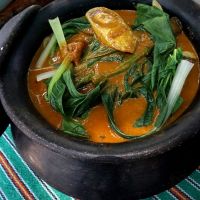 Difficulty:
Fairly difficult
Cost:
Fairly cheap
---
Ingredients
For 6 Person(s)
Filipino Kare-Kare (Oxtail and Tripe Stew in Peanut Sauce) Directions
In a Palayok , heat oil over medium-high heat. Saute garlic and onion until limp and aromatic. Add the meat and sear for a minute to let the juices out.
Pour in water and bring to a boil. Reduce heat to low. Simmer for 3 hours, pot covered, or until the meat becomes very tender. Add more water if needed to make sure you have at least 3 cups of stock for the sauce.
Using a skillet over medium heat, toast sticky rice flour for a few minutes, stirring often, until it turns light brown in color. Transfer to a small bowl and add 1/4 cup of water and set aside.
Once meat is tender, add the yardlong beans, and eggplant to the pot and cook until al dente, add the peanut butter and annatto powder. Season with salt if desired. Stir and make sure that peanut butter is completely dissolved.
Once vegetables are cooked, gradually add the toasted rice flour mixture to the pot and mix well. Cook for a few minutes until the sauce thickens. Lastly, add the pechay or bok choy and turn off the heat. Transfer to a serving pot or dish. Serve hot with steamed rice and some shrimp paste.