Paila Marina - Chilean Seafood Stew
The Paila Marina is one of those quintessential seafood dishes of the Chilean Costal cities such as Viña del Mar and Valparaiso. It is especially popular in family gatherings and holidays.
The Paila can be difficult or simple, but special attention should be given to the dish so as for it to not overcook certain seafood.
The Paila can be made in our our Clay Pomaireware Pots and as tradition, served in our Pomaireware Clay Pastelera.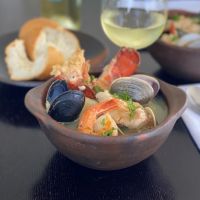 Difficulty:
Fairly difficult
Cost:
Fairly expensive
---
Ingredients
For 4 Person(s)
Stew
1/4

cup

olive oil

1/2

large onion , chopped

3

cloves

garlic

3

piquillo peppers

1

tsp

oregano

1/2

cup

white wine

3

cup

seafood stock

1/2

cup

stewed tomotoe

6

oz

canned crab meat

1/2

lb

peeled shrimp

12

Clams

1

small lobster tail, cut down the middle

2

lb

mussels

1/2

lb

bay scallops

1

cup

chopped parsley
Paila Marina - Chilean Seafood Stew Directions
Heat a large Clay Pomaireware Pots. over low heat, and once heated, raise the heat to medium, add the oil and fry the onion for about 5 minutes or until it is transparent without browning.
Add garlic, piquillo peppers, oregano, salt and pepper to taste.
Add the clams and mussels and cook for about 3 minutes, discarding any shells that do not open.
Add the wine, broth, tomatoes and chili sauce.
Add the crab meat, peeled shrimp and scallops, cover and cook for about 5-8 minutes.
Add the fish and cook for about 12 minutes.
Serve hot, ideally on Pomaireware Pastelera., and sprinkle with chopped parsley.