Artichokes Braised with Garlic and Fresh Herbs
If you have never cooked artichokes, this is probably one of the easiest ones to start with. Unlike some other vegetables you must carefully prep artichokes before applying heat. Artichokes have sharp outer leaves, fibrous stems, and the choke. They oxidize quickly when cut. But, fear not. take your time, enjoy the journey, know that it will be worth it.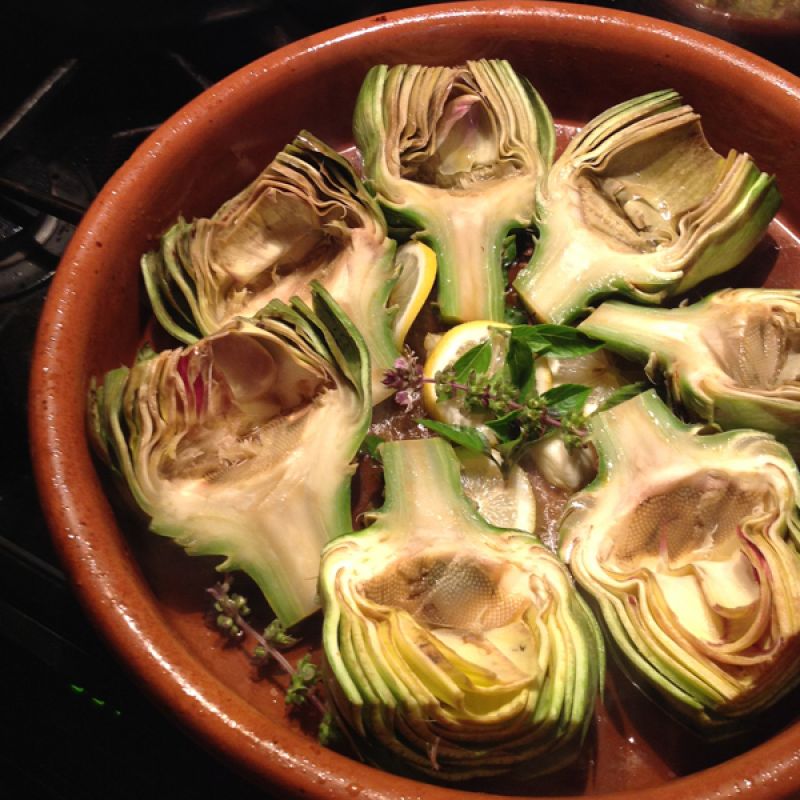 Difficulty:
Easy
Cost:
Fairly cheap
---
Ingredients
For 8 Person(s)
Recipe
1

lemon

4

medium artichokes

1/4

cup

olive oil

8

sprigs

fresh thyme

1

whole garlic head

1

cup

white wine

1/4

teaspoon

black pepper

1

teaspoon

salt

1

teaspoon

extra-virgin olive oil
Artichokes Braised with Garlic and Fresh Herbs Directions
Preheat oven to 350⁰ f.
Fill a large bowl with cold water and squeeze the lemon into the water.
Working with 1 artichoke at a time, cut the artichoke in half. Scoop out sharp leaves and fuzzy choke from center with a melon-ball cutter or a spoon. Trim bottom 1/4 inch of stem (if present), keeping stem attached, and peel stem. Put artichoke in a large bowl of cold water. Repeat with remaining artichokes.
Heat 1/4 cup olive oil slowly in roasting pan over moderate heat until hot but not smoking, then add artichokes, thyme sprigs, garlic, 1/2 cup wine, pepper, and 1/2 teaspoon salt.
Cover pan with foil and place in preheated oven.
Braise artichokes, turning occasionally, until artichokes are browned in spots and bases are tender when pierced with a knife, about 45 minutes.
Transfer artichokes, thyme, and garlic to a platter.
Allow garlic cloves to cool slightly and then grind in a molcajete or in a bowl (using a fork).
Add remaining wine to roasting pan and deglaze by simmering over medium heat, stirring and scraping up brown bits, 1 minute. Pour pan juices into a small bowl and stir in extra-virgin olive oil, garlic and remaining 1/2 teaspoon salt.
Drizzle sauce over artichokes and serve with a nice crusty bread.
Recipe notes
CHEF'S NOTES:
You may use a Mexican or Spanish Cazuela or a Columbian black clay square roasting pan. If using black clay, add more wine. The black clay will absorb some of the liquid.
Water may be used instead of wine.
Other fresh herbs may be used such as Thai Basil, Genovese Basil, Rosemary.
Recipe by Chef Brian Cook, COOK with COOK LLC
For further details about this recipe visit: www.cookwithcookblog.com